Are Boys More Difficult to Potty Train?
Contrary to a commonly held misconception, potty training a boy is not more difficult than potty training a girl, except for teaching boys to stand up while voiding. You can start him sitting on the potty chair and just teach him to stand later. Also based solely on my own experience with three sons and one daughter, boys seem to be less interested in becoming diaper independent. My sons all took a lackluster view of getting potty trained than did my daughter. She was very interested in becoming a "big girl" and going to the bathroom by herself.
My last son was potty trained at two and going to the bathroom very well. But if he was engaged in a game of playing and running outdoors, he would not want to stop his fun to go to the bathroom. He tried to "hold it" and would have an accident. So every child is different and you will find out what motivates each of yours with time, patience, trial and yes, errors.  But fear not, here are some tips for potty training boys from my research and experience.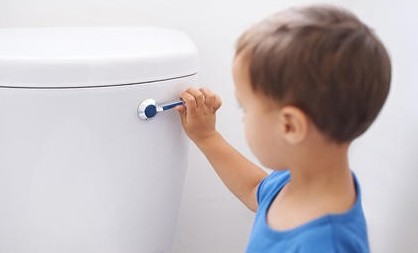 Is He Ready?
To be successful at potty training boys, you should start when he shows signs of interest in being a "big boy" that can go to the bathroom on his own. He must be physically mature enough to utilize fine and gross motor skills to use the potty seat or the potty adapter seat on an adult toilet safely. Some boys may be ready at 18 months- 2 years old. Others may be ready earlier. Observe your son and encourage him to try potty training. Do not feel discouraged if you start potty training and discover he may not be exactly ready.  You can start again a few weeks later.
Concentrate on Timing
Do not begin potty training your son during a big change or new event in his routine, such as the birth of a new sibling, a recent family relocation, a recent loss of a parent or loved one through death or divorce. Make sure his environment is as stable as possible. Observe his interest in emulating the adults doing daily tasks in the household. When the timing is right, gather together the equipment you will need.
The Proper Equipment
Gathering together the proper equipment is also essential to potty training boys successfully. The proper equipment may take some time to find with some trial and error. Each child is unique and what may work for some may not work for others. Finding what "clicks" with your son may take some purchases before you get what makes him comfortable. Some experts advise to buy a potty chair where your son can lean forward with feet touching the floor. This position they contend is helpful during bowel movements. They also suggest to buy a child size potty chair which may be more comfortable for him.
These suggestions did not work for any of my children. The toilet adapter seat placed on the adult toilet worked best for them. Buy two of them. One for home and one for travel.They knew that this was not a "playtime" seat. When they sat on it, they knew it was time to potty like mommy and daddy did. We used a little step stool made for the toilet to help with potty training. This can be left in place so a child can go onto the toilet safely.  But in the beginning, you will be there to assist him.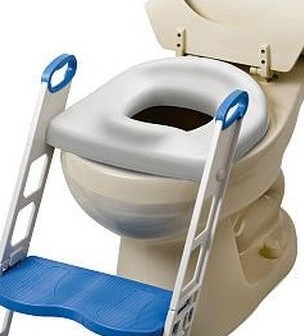 Have several pairs of cloth training pants ready for changes. You can also use pull ups but use them as if they were cloth training pants. If he has an accident, change the pull-ups just as you would the cloth pants. Do not let him walk around with wet or soiled pull-ups. He will think it is ok to go in his pants.
Establish a Schedule for Potty Training
Begin in the morning when your son wakes up. Place him on the potty, then give him his daily hygiene. Take him to the potty at 1 hour intervals throughout the day. Soon you will discover when he is most likely to need to potty. Watch for ques that he may need to use the potty. Then you will establish his routine for voiding and bowel movements.
If you need to go out, check for access to public facilities and take a seat adapter with disinfectant wipes. Once you get your son into a routine, you can plan your trip where he can go before leaving home and return home in time for the next potty visit.
To help establish a schedule for potty training, provide water and juice at regular intervals also. This will help with when he is most likely to need the potty. After your son uses the potty, give him little rewards and praises. Stickers, games and charts give him a feeling of progress and accomplishment. Do not punish him if he has a toilet training accident. Encourage him to try to do better the next time.
You Can Do It Together
Potty training boys is not any more complicated than potty training girls.To be successful, you should start when he is ready and interested in going to the bathroom like his mom and dad. Focus on beginning potty training when your son is secure in his daily routine and home environment. Find the right equipment that works for him and your family routine. Establish a schedule. Provide incentives to encourage him along with his potty training. Never make him feel ashamed or punish him for having toilet training accidents because they will happen.
Utilize videos and fun picture books about potty training which will make it easier for your son to process the new information. Most of all, take your time. You can always regroup and start again after a short break. But whatever you do, be consistent. By utilizing these tips for potty training boys, you can do it together. You can be successful at potty training your son.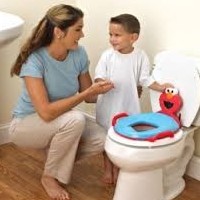 Do you think boys are more difficult to potty train? Share your thoughts in comments.
What tips do you have to potty train boys? Please share in our comment section.
Please share this post with helpful tips to fellow potty-trainers.  😉
Potty Training Essentials
 here for all your potty training needs.